What Is A Good Can Opener for Arthritis
The can opener that can be operated with the slightest strength can be good for people with arthritis as their hands remain weaker than a normal person. So, the openers that can be operated without using hands like battery-operated or electricity operated can be the best choice for the elderly as well as arthritis people as they will work for them automatically.
However, battery and electricity operated can openers may have certain drawbacks attached to them. You will have to replace their battery from time to time to keep them operative otherwise it will be useless for unable people. Similarly, electrically operated openers will have to depend on the power supply to keep them operative. Moreover, both of these openers can be a bit noisy.
Furthermore, while using an electric can opener, you will have to remove the lid of the can completely to take out food as well as liquid from it. So, people with arthritis will have to read their manual to operate the opener safely and effectively.
The third option for arthritis people is the selection of manual can opener. A manual opener with large knob and long cushy handles can be the right choice for arthritis as it can improve their grip on the device.
Though you can find a wide variety of can openers for arthritis in the market but finding the best one is not easy unless you compare different types of openers. For this reason, some of the good can openers for arthritis are briefly reviewed in this write-up to help you in making the right decision. You can read more about it on Kitchenoa.
Smooth Edge Can Opener with Good Grips by OXO
Though this can opener for arthritis is not electrically operated but it can help you in using it without tiring your hands due to its cushy handle and snap and lock feature which allows you to grip it effortlessly. One more thing that attracts people to buy it is that it opens the can without touching its contents. It allows you to keep it in your drawer after using it without needing to clean it.
Moreover, it also prevents unnecessary cuts and scrapes in the kitchen as it cuts the lid smoothly. Furthermore, it allows you to see whether it has completed its task or not by looking through the small window provided on its top. So, its proper working and easy handling have made it popular among arthritis and elderly people.
Smooth Touch Can Opener by Hamilton Beach
This can opener can be good for people with arthritis who are familiar with the working of an electric opener as they will be able to handle the seepage and splashing occurring while removing the lid of the can. Moreover, this device makes it easier to remove the tip of the can as instead of cutting on the top of the can it cuts it from its side. So you need not apply any force to remove its top by pulling.
It will remove the lid automatically just by pushing its ergonomic liver slightly. To meet the requirements of their customers they have upgraded the previous can opener for arthritis. Moreover, you can store it easily by winding its chord in its back around a tab as its cord is not retractable.
It can be a smart choice for you as more than 80% of its users have rated it for a 5/5 rating. It will be fun for people with arthritis to use this opener to open their can without injuring their hands.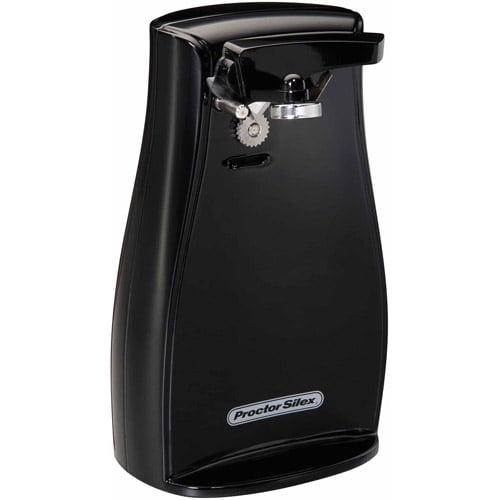 This can opener can be good for you if you want something easy to open your cans within your limited budget. You can use it to open cans of any size, taller or smaller. But you have to ensure that you can handle that can. Moreover, it is easy to clean just by twisting a lever and store by storing its cord in its storage space.
Furthermore, it does not need a large space to put on the countertop due to its lovely slim design. So it is the best can opener for people with arthritis and a small kitchen.
Classic Chrome Heavyweight by Hamilton Beach
Though you may not like the looks of this can opener with a classic design but it ensures to do the job very well with little effort. To open any can in the first attempt every time the company has used its patent technology to make it easy and efficient to use. It also includes a knife sharpener built in it to sharpen its blade and shut off automatically after completing the task.
Most of arthritis and budgetary people will like to buy this can opener due to its very reasonable price. Moreover, you can remove its cutting unit and clean it easily in your dishwasher after opening your cans. However, you can avoid this item if you have to usually open taller cans as arthritis people with aching hands may not be able to handle it effectively.
Deluxe Electronic Can Opener by Cuisinart
Most of arthritis and elderly people who have used this can opener have reviewed it positively as they are satisfied not only for its affordable price but also for its effective working. Most of them are satisfied with the steadiness and sturdiness of its wide base which allows them to use it more confidently.
It cuts the top of all types of cans, lightweight or heavyweight, to open them without toppling or slipping. You can use this device to open a can of standard size just with a single touch.
Conclusion
Thus by comparing the features of different types of can openers for arthritis and the elderly, you can easily choose the best one for you. The basic thing to focus on is that it should be easy to handle with weaker hands as elderly and arthritis people do not have strong hands to handle the can cutter very strongly. The can opener you chose should also be easy to handle, clean, and store.